The 2019 MTV's SnowGlobe Music was a wildly successful event for Waste Free Earth.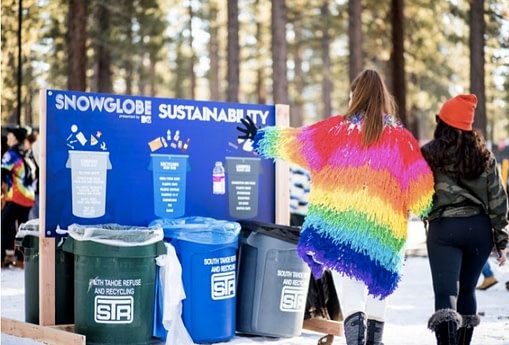 This was our 5th year working with the team over at SnowGlobe and each year we are given more support from the producers to make our sustainability dreams a reality. We are SO excited to share with you our results from the event. Below are our results and they are available for sharing and hopefully, some inspiration.
Waste Diversion
In 2019, we were able to increase our diversion rate by 5% – we achieved our highest diversion rate of 75%! We decreased our overall waste by an astonishing 90,717 pounds and decreased our landfill waste by 28,210 pounds. This year's stats equates to an overall 21% diversion rate increase since working with Waste Free Earth.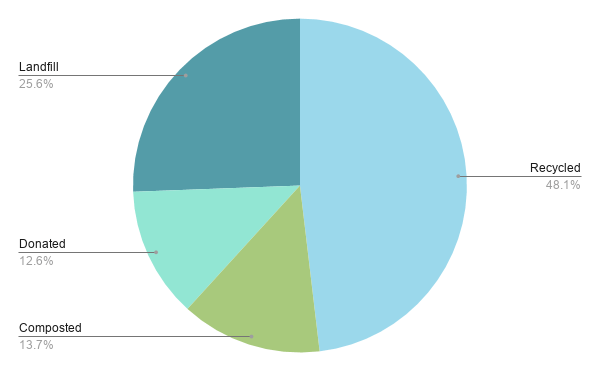 We produced a total of 29,304 pounds of waste for the whole event, sending only a fraction to the landfill at 7,500 pounds. The rest went to our composting, recycling and donation efforts – 21,804 pounds to be exact.
To put things in perspective, this is a 113,506 pound decrease since 2017. In just two years we have been able to reduce our waste by more than 55 tons! Last year we had our biggest reduction yet at 22,789 pounds, but this year surpasses it quite substantially. Go team, GO!
How did we get such a massive waste reduction across the board? Waste Free Earth works tirelessly to coordinate with each department to make sure their activations, decorations, and product offerings align with our sustainability mission. This means buying products that are durable, can be reused, or not buying/offering products if they are going to be single-use. This takes a massive amount of cooperation between all departments and we couldn't do it without the unconditional support from the SnowGlobe producers. We would also like to extend our gratitude to Chris's Cleaning for continually stepping up their waste diversion game year after year and showing up for the environment every day no matter the extreme weather conditions.
Donations
In 2019, SnowGlobe was able to donate over 3,704 pounds of warm clothing, housing material and products, along with food and water to 7 different organizations in the Lake Tahoe region.
Donations were sent to The Warm Room (Tahoe Coalition For The Homeless), Boys And Girls Club, Bread & Broth / St. Theresa's Church, Habitat for Humanity, Goodwill and countless community members.
Green Team
Members from Waste Free Earth and Chris's Cleaning made up the 2019 SnowGlobe Green Team of over 60 individuals, with over 40 of the workers being local to the Tahoe Region.
Water Refill Stations
Approximately 64,087 single-use plastic water bottles were saved from being used thanks to our free filtered water stations by Event Water Solutions. This is an increase of 10,135 single-use plastic water bottles saved from 2018.
SnowGlobe provided water stations in partnership with Kleen Kanteen that flowed 32,069 liters of water, alleviating the need for 64,087 disposable water bottles
Sponsorship Information
SnowGlobe and Waste Free Earth worked closely with all 2019 sponsors and vendors to implement new sustainability guidelines with resounding success. Proud Source Water provided highly recyclable and reusable aluminum water bottles to enable the festival to go 100% single-use plastic water bottle free in 2019.
SnowGlobe provided water stations in partnership with Kleen Kanteen that flowed 32,069 liters of water, alleviating the need for 64,087 disposable water bottles. Java Monster collected over 3,300 sampling cups to recycle from their activation, while Hornitos gave out 300 reusable mugs for people to reuse at their activation bar.
SnowGlobe worked closely with sponsors to create meaningful swag that was derived with sustainable means, with any leftover product donated to local organizations by Waste Free Earth.
Sustainability Booth
We had over 112 attendees participate in our sustainability interactions:
52 attendees signed our plastic pledge, 22 more than last year.
50 attendees participated in our product lifecycle game, where they guessed how long different items took to biodegrade.
10 attendees picked up micro-trash.
Sugar Pine Foundation
In 2017, SnowGlobe began its partnership with The Sugar Pine Foundation, planting 200 sugar pine seedlings to help restore Lake Tahoe's sugar pine population, which now makes up less than 5% of the Tahoe Forest. In 2018, SnowGlobe doubled their donation and offered fans the ability to contribute to the cause by adding a small donation to any SG18 ticket order. This resulted in a total of 675 seedlings sponsored by SnowGlobe and its patrons in 2018.
For 2019, SnowGlobe was again able to up their donation and offer fans the opportunity to sponsor a seedling, resulting in 1,071 seedlings sponsored from the 2019 event and almost 2,000 sponsored seedlings since the partnership began. For more information on The Sugar Pine Foundation, please visit www.sugarpinefoundation.org/* It is estimated that trees on average sequester 48 pounds of carbon from the atmosphere each year.
Tahoe Coalition For The Homeless
In 2019, SnowGlobe was able to expand the scope of their charitable partners with Tahoe Coalition for The Homeless, which works to end homelessness on the South Shore of Lake Tahoe by providing warm, safe beds during the winter, mental health outreach, case management, resource referrals, social work visits, and food and drink. The festival committed to donating at least the equivalent to 100 bed night stays and offering fans the option to donate. In total, the festival and its patrons were able to donate the equivalent of 213 bed night stays to Tahoe Coalition for the Homeless.
That's it for 2019 MTV's SnowGlobe's sustainability results. We can't wait to continue to deepen our programs year after year.
Interested in working with Waste Free Earth for one of your events? Please reach out to us via email at team@wastefree.earth to set up a free consultation call.
To sustainability and BEYOND!
– Marina M. McCoy, Founder/CEO of Waste Free Earth