Have you ever used a reusable takeout container program? Being a waste nerd, I had to try it for myself!
My takeout ordering habits
I'll be honest: before the pandemic, I really didn't order food to go often, maybe once a month. My family ate out a lot growing up and we even had a drawer dedicated to plastic utensils and single-serve condiments. The waste definitely bothered me as an adult, but what really reduced my ordering out habits was the lack of plant-based options. I've been vegetarian for a few years now and menu options were slim in my restaurant radius. I mean, have you ever gotten fries for delivery? … soggy, not worth it.
Fast forward to the end of 2020 and my takeout habits probably quadrupled over the year (and so did my waste production). I had recently moved to NYC and kept getting ads for DeliverZero, a new reusable takeout container program. So what did I do? Tried it, of course!
Reusable takeout containers delivered to your door
Ordering from DeliverZero was super easy. I just typed in my address and was shown a list of restaurants in my delivery radius that would package my food in reusable containers. There's only a fee for using their containers if you don't return them within 6 weeks of your order date.
One of my favorite restaurants near me is Myrtle Thai and they participate in the program. I ordered their spring rolls, two entrees, lava cake, and green tea ice cream. It's safe to say there was a range of temperatures and food textures going on. I was really curious how it would all come packaged!
Everything arrived in a brown paper bag within the estimated time and all at the right temperatures! Once we finished our meal, we simply rinsed the containers and let them air dry. Returning the containers was just as easy as ordering. In fact, we just ordered through DeliverZero again a week later and gave the containers to our delivery person.
Reusable takeout container programs: trend or the future?
I definitely think reusable takeout containers are here to stay. I'm stoked about how much waste can be reduced in the process. We already reuse dishes and utensils when dining in, so why not while dining out too?
Using a reusable takeout container program can save restaurants from single-use packaging and disposal costs without sacrificing the quality of their product. As a zero waste consultant, I know how important design and logistics are to increase access for more restaurants to participate in the system. But honestly, problem-solving and creative thinking are my favorite parts of the job!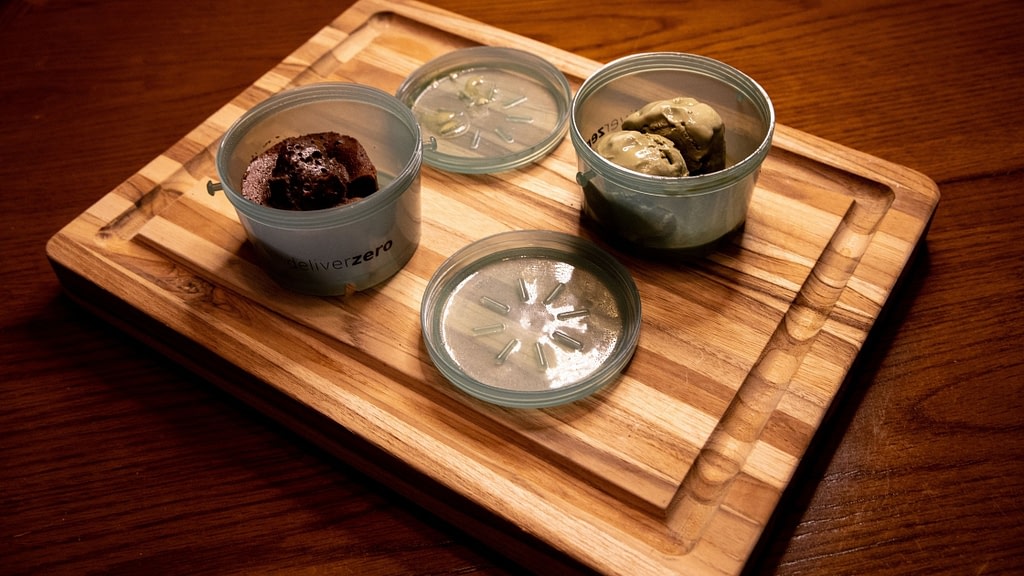 Whether you live in NYC or are making plans to visit, use code "WASTEFREE15" for $5 off any three orders. This isn't a sponsored blog post, we just really love supporting zero waste systems! Know of any other reusable takeout programs? Share them in the comments for us to try next!