When hosting an event, event producers have a civic duty to take care of the community and the environment where they host events. The days of solely having waste management available are now over. With attendees being more engaged than ever in sustainable practices within their daily life, they expect to be greeted with aligned practices when attending events they choose to put their consumer dollars towards.
Waste Free Earth builds sustainable strategies for events all across the country, but what does that truly mean? Our Founder and CEO, Marina McCoy, wrote down some common questions that she gets asked when building sustainable programs for events.
What are you most focused on when producing a sustainable event?
My biggest focus with events is, waste. I am completely and utterly fascinated by it. A key element of our sustainable strategies is eliminating waste at the source, stopping the waste before it ever gets produced. We also implement reusable products wherever we can, and lastly offer up sustainable alternatives like highly recyclable products or compostable ones.
So what's the trick to reducing overall waste consumption at events?
We go into every single department of the festival. And I mean EVERY department to identify the key waste contributors and offer up solutions for food vendors, bars, sponsors, partners, artists and bands, admin, sit operations, etc. It takes a lot of communication and cooperation from all departments, but once they hear the data of how much waste we were able to reduce and divert, they get on board and even offer up solutions of their own!
What are some expectations on a sustainability standpoint that you see attendees requesting?
Festival attendees expect to have access to recycling and composting and take notice when events lack in sustainable practices by not having these components, including free water refill stations. Attendees also want to be able to take something home with them in terms of sustainability. By having non-profit partners and environmentally focused organizations hosting booths at the event, where attendees can engage and learn how they can take action. Like writing letters to Senators, calling members of Congress, signing a petition, and picking up trash around the venue, attendees are eager to take part in the action.
With the push from attendees to produce a more environmentally sound event, is it cost beneficial for Event Producers?
Although Event Producers are feeling the pressure from attendees to produce a more sustainable event, it is highly more expensive. There are cost-saving strategies involved, but overall, throwing a fully sustainable event costs more money.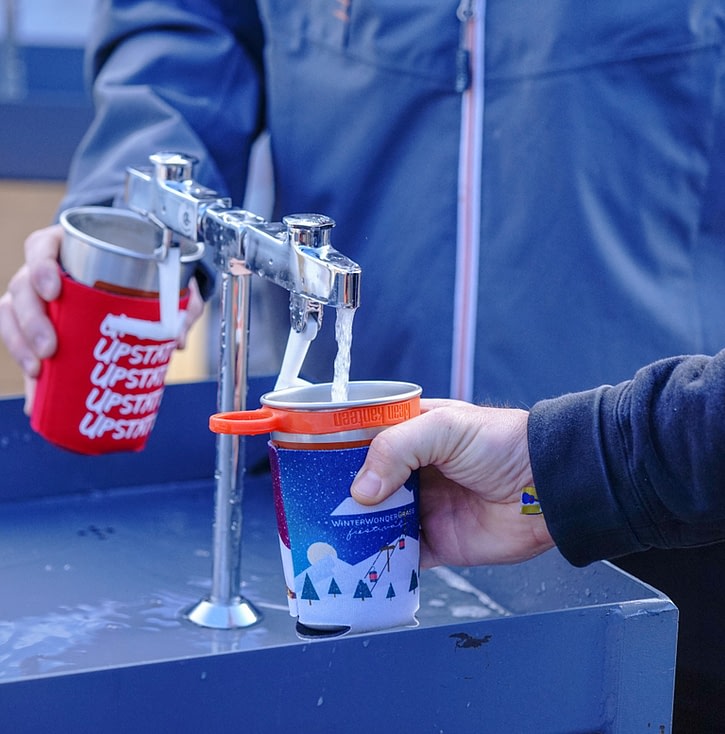 We live in a society that makes money off of our convenience base lifestyle products. Cheap, disposal, single-use products are less expensive and require fewer systems to be in place compared to the more sustainable option of reusables. When events go single-use plastic water bottle free and offer free water refill stations, they are now spending money on that program compared to making thousands off of water bottle sales.
The point of all of this being is, a sustainable event needs support from all sides – attendees and staff. If you are an attendee, spend your money on supporting events that are more environmentally sound and take part in the programs once onsite. If you are a staff member, be sure to follow the sustainability guidelines and always look for ways where the event can continue to raise the bar in terms of sustainability.
Compostable straws? Is there a preferred material you lean towards?
We lean towards bamboo since it grows extremely fast, but lately, we have been getting into hay straws because they tend to be locally produced (USA) and are making use of something (hay) that tends to be composted immediately.
However, we are not that big on compostable straws, to begin with. When we work with events, we encourage them to go straw-free, even if the straws provided are compostable. Why? Because compostable straws are still waste at the end of the day. We will always have compostable straws as backups at every event for people who need and want a straw, but ultimately we are trying to reduce all forms of waste – compostable, recyclable and landfill items.
Stage backdrops, what can you do to be more environmentally sound on that front?
For backdrops, we always strive to get ones that are timeless and will be used for years and events to come. That way, if the budget doesn't allow for a digital backdrop and the festival needs to get a banner made out of nylon or vinyl, we will get multiple uses out of it.
At the end of the life of the backdrop, we partner with companies that will up-cycle the banner into backpacks and purses. This way, the backdrop is made into something new instead of immediately getting discarded into the landfill.
Additionally, we have worked with events that don't even use a backdrop, which we are 100% in support of. We use all up-cycled materials that we have sourced locally or from our production waste stream. Wood pallets, being a big part of it. We try to make use of everything that is produced waste wise at the event, especially during production, and wood pallets are a common occurrence at events because of all the shipments of supplies.
We have used pallets as stage backdrops before and also stage decore. A little bit of paint and some great positioning of pallets go a long way for events that want to be more eco-friendly and budget sensitive.
Carbon offsets, what is your stance?
We believe in carbon offsets, but we do not think they are the answer to reducing a festival's carbon footprint. It is imperative for an event to be aware of their carbon footprint and continually look at ways to lower it. That includes looking at attendees, staff, and artist travel. How can the event attract more attendees that are local to the area/state instead of thousands of miles away? How can the event hire more local work? How can the event support more local artists? Can artists travel to the event by alternative means instead of flying? These are questions all event producers should be asking themselves.
Our experience with events and carbon offset credits is that they are only looking at the energy they create at the event to offset- stage, lighting, generators, etc. They tend to miss the fact that they are attracting thousands and thousands of people to an area that they have to travel too, which has a significant carbon footprint. In the end, festivals should be purchasing carbon offset credits, but it shouldn't stop there for carbon footprint reduction. Buying carbon offset credits is essentially putting a temporary band-aid on the problem at large.
In conclusion
Thousands of events happen throughout the year, and the amount of environmental damage that comes along with it is not okay. Let's all do our part and create a more Waste Free Earth.
By Marina McCoy