Did you know the 2.5 Billion Holiday Cards that are sold each year within the United States could fill a football field 10 stories high? That is a whole lot of holiday cards.
To top it off, most of these cards are not recyclable or compostable. Why's that?
Although holiday cards are generally made of paper, they often come coated in plastic, have ribbons, glue, glitter, or other plastic pieces glued onto them, all of which make them not recyclable or compostable.
So what on earth can you do? We created a brief list of options you can incorporate this year to gift zero waste holiday cards.
We use our Good-Better-Best model for a smooth and slow adoption of zero waste living. This allows us to meet people where they are at on their zero waste journey while still making a positive impact.
We hope you enjoy it!
GOOD
Seed paper cards or homemade ones from local and online makers
Don't have time to make your own cards? Or have too many to send and need to buy in larger quantities? Buy homemade or plantable cards made of seed paper through local shops or online ones like Package Free Shop or Etsy. Be sure to ask them not to wrap the cards in plastic.
The cool thing about seed paper cards is that they can be re-planted in your garden. You are literally giving the gift that keeps on growing.
BETTER
Make your own cards out of upcycled or fully recyclable or compostable material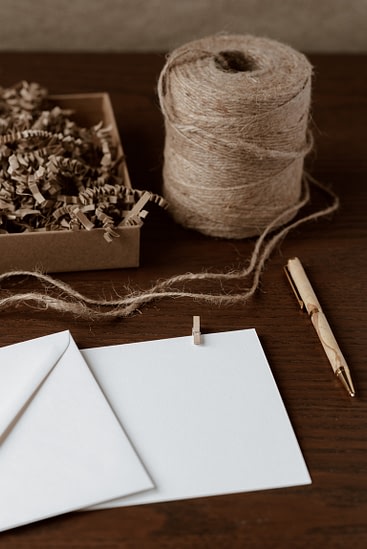 Did you know that it takes one tree to make 3,000 holiday cards? On average, people send and receive 17 cards throughout the holiday season. Using this estimate, one tree is enough for only 176 people to send cards.
This then means that 1 billion Christmas Cards will end up in bins – the equivalent of 33 million trees!
How can you not add to this number? Make your own cards out of up-cycled or fully compostable or recyclable material. Ditch the stuff that makes cards non-compostable, like glitter, glue, paint, and ribbons.
Instead, get creative with natural add ons like rosemary and dried citrus that is tied onto the card with compostable twine. This way, your card is fully compostable!
Want to add more designs and layers to your card? You can attach them with compostable paper tape to add that extra pizzazz!
BEST
Call your loved ones or send an e-card
Rather than buying or making a card, give your loved ones a phone call or a video chat! This is a great way to show your love and gratitude for them while having some quality time together, no matter this distance. Plus this option creates no waste. 😉
Looking to send cards to the masses? Opt for e-cards that create no waste and are delivered straight to their inbox. Not only does this not create waste, but it saves you from having to search for their current physical address.What holiday card option are you going to use this year? Let us know! We hope you have a wonderful holiday season.
Written by Marina McCoy & Kate Hoffman