What's one way to work towards becoming a zero waste ski resort? Education and culture building, which is exactly what Vail Resorts does with its volunteer-based employee green teams.
Reflecting on my time working at Okemo Mountain Resort in the Ski and Ride School Department, one of the most rewarding projects for me was volunteering with the green team called the Commitment to Zero Committee, or C2Z, to progress towards Vail's goal of zero waste by 2030. Our team brought together a variety of departments, mostly managers, and we met biweekly on video calls for about an hour.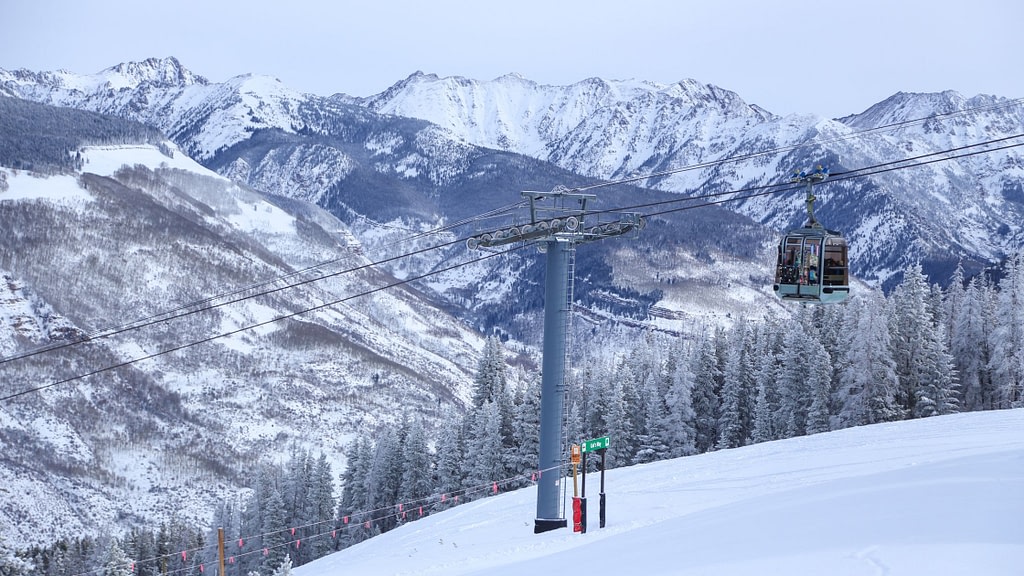 Okemo Mountain Resort is in Ludlow, VT, the historical lands of the Abenaki People.
HOW I JOINED THE GREEN TEAM
As someone passionate about environmental stewardship, I actively sought ways to get involved with this team. Before COVID, a manager of the Ski and Ride School Department attended these meetings and brought me along to experience them. After COVID hit, their priorities shifted and made it difficult for them to focus on the green team. I then became our liaison and spoke on behalf of the ski and ride school department in the C2Z meetings. This essentially meant that I passed on the information from meetings to the managers of my department and had them proceed with final decisions.
Even though I could not make decisions for my department, I had the ability to express my opinions on what could be improved, to listen to the challenges from other departments, to participate in spreading key environmental messages, and to gain a basic understanding of how to present our findings of the resort's need for environmental change and the achievements accomplished by C2Z.
CONDUCTING A WASTE AUDIT
When I first joined the sustainability committee in 2019, Vail Resorts had recently purchased Okemo Mountain Resort. The company's overarching zero waste goal was new for all of us at Okemo. Fortunately, we had an experienced environmental compliance manager from another Vail Resort on the east coast attend meetings to help guide us. Since the company's priority has been reducing waste at the resort, we conducted our first waste audit in 2019.
A waste audit is a method for analyzing an organization's waste stream. Here is a picture of a group of us from the Committee conducting Okemo's first waste audit.
From sorting 370 pounds of waste, our team discovered a baseline of the resort's waste. We were able to accurately reflect on how the resort could continue to improve and become more sustainable. More specifically, we discovered that guests were throwing out both recyclable materials and reusable foodware into the trash stream. They were literally throwing resources and money away!
As a result of this waste audit, our team planned to take action. We created accessible resources of information such as signage and user-friendly waste sorting bins. Overall, this experience was essential for the resort to start reducing its waste and helped the team build a foundation.
MY BIGGEST TAKEAWAYS
I was extremely fortunate to be part of a green team at a ski resort because everyone who works in this industry is well aware of the impact of climate change. A sustainable culture in the workplace feels like a no-brainer when working around nature-loving folks!
That being said, employees at the resort already understood the importance of creating a sustainable culture in the workplace. With the help of my boss, the Ski and Ride School Department, and the sustainability team, I truly felt like active change was being made. Check out the summary below of my experience on the green team. I share what I felt to be the most beneficial parts, the challenges we faced, and the overall lessons learned.
Roses (positives)
Ability to work with and gain an inside perspective from multiple departments outside of my domain
Deeper connection with the company
Sense of purpose by actively making a difference in the workplace
Opportunity to progressively share ideas 
Hands-on experience from waste audit
Thorns (negatives)
A volunteer-based green team is limiting because:

Not a priority so meetings were cancelled when busy
Biweekly meetings did not feel like enough time
Planning around the team's schedule was hard to align

Felt limiting with amount of change and progress made as someone who was not directly connected to management
Buds (lessons learned for growth)
Designate a couple of leaders to run the green team
Hands-on team projects are essential in addition to video calls
Having an employee from another resort with experience working on Vail's sustainability goals significantly helped the Okemo team understand how to get started
Change will not happen as fast as you may like, so be patient and find value in the progress made